String Art is a fun and easy activity to do. What's more interesting about this Easy String Art is that it is quick to make and looks super cute. So if you are a beginner, this project is for you.
What could be more special than giving a hand-made gift to your loved ones? This would be a perfect gift for Anniversaries, Valentine's Day, Mother's Day or Father's Day.
Thinking of using this as a decor item? Don't think twice! Place this piece of art anywhere in your home or just hang it on your wall.
Still not convinced? How about making this your first project?
What you need?
Wooden board, Embroidery floss, Nails, Hammer
You can click the items above to purchase them online.
How to make Easy Heart String Art?
Step 1: Search for Heart Images on Google
You can find tons of images online. I searched for Geometric Heart. Once you find your image, download it to your computer.

Step 2: Get your Wooden Board and Image ready
Measure your wooden board and note down the dimensions. Resize your downloaded image based on your measurements. For example, my wooden board was 6×6, so I resized my image to be 6×6. My image had borders. If yours doesn't, then make the size an inch or two smaller (5×5).

Step 3: Hammer Nails
Place the heart image on the wooden board and hammer nails along the border. Hammer some nails inside the heart as well. Remove the paper after you are done hammering the nails. I made the mistake of not removing the paper and it was a pain to remove it at the end.

Step 4: Time to use Embroidery Floss
Use the color of your choice and tie a knot on one nail (start from one corner) and run the floss between the surrounding nails.

When you stop seeing gaps, tie the knot again and cut the floss. If you want to use multiple colors then form sections.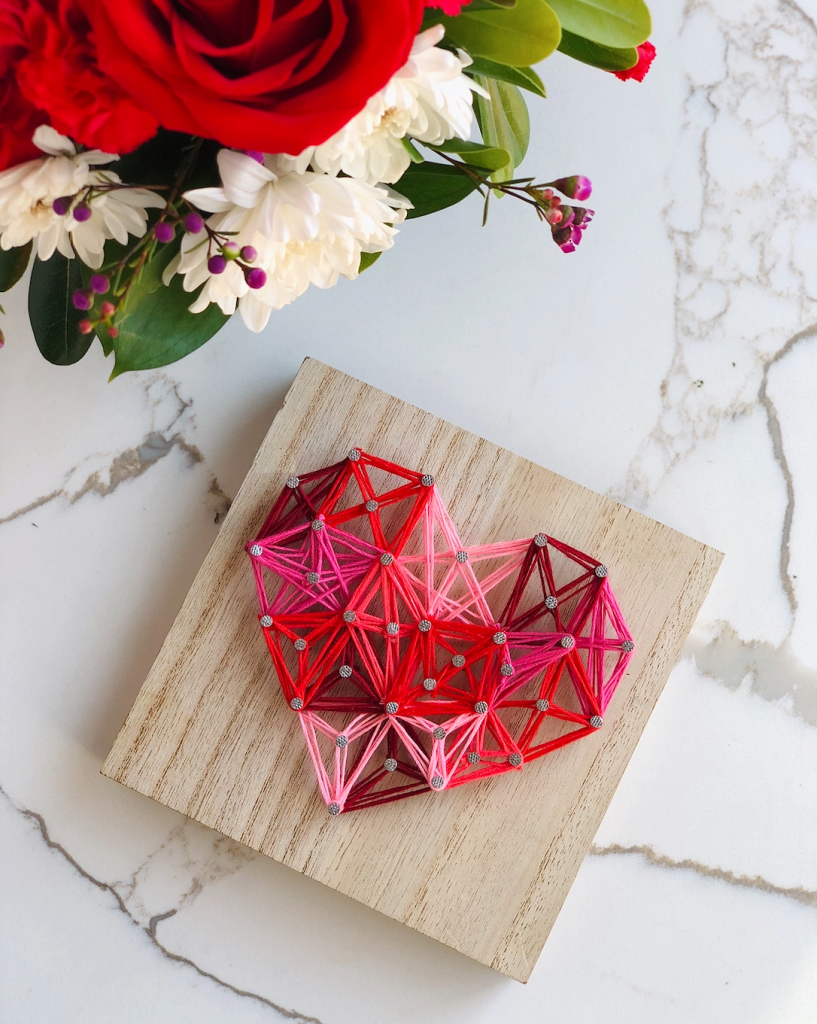 Tip: Use multiple colors (similar shades) to make your heart string art more appealing.