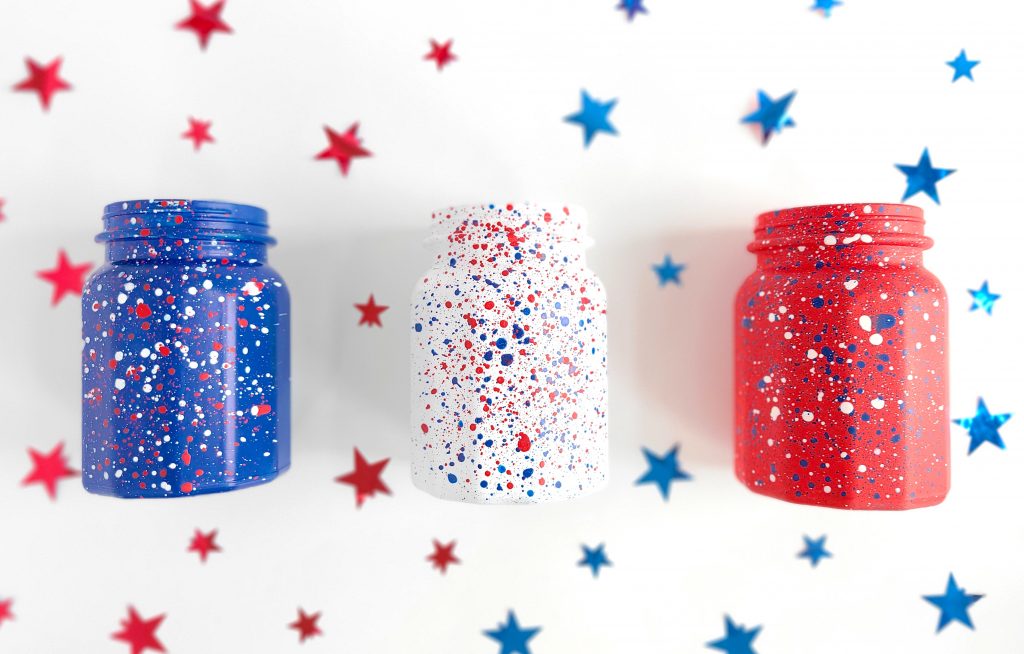 Are you looking for fun patriotic crafts that your kids can try? These flag-themed 4th of July Mason Jars are a must try! They are quite easy to make and won't take up much of your time. All you have to do is splatter paint on the jars. Easy-peasy 🙂
Your kids will definitely love it!
Planning on throwing a 4th of July party for your friends and family? This would be an excellent 4th of July decoration that you can place on the table. Throw in some forks, spoons and knives in these cute Splatter Paint Mason Jars. Try this 4th of July Mason Jars DIY today!
What you need?
How to make these 4th of July Mason Jars?
Step 1: Get your Jars ready
Clean the jars with soap and pat it dry. This will help in getting rid of all foreign particles on the jar(s) and give a clean surface for the paint to latch on to.
Step 2: Paint the Glass Jars

Paint the glass jars with red, blue and white colors. Completely cover the glass jar(s) in acrylic paint. This will be your first coating.
Let the first coat of paint dry for at least 4-6 hours and then apply the second coat of paint on the jar(s).

Repeat the above process till you are satisfied with the color of the jar(s) and it does not look opaque. Recommended to do 2 to 3 coatings of paint.
Leave the 3 painted jars overnight for it to dry completely before proceeding to the next step.
Tip: Do not mix water with Acrylic Paint else it will dilute the paint and wont stick to the glass jar.
Step 3: Splatter Paint on the Glass Jar
Fill the bristles of a paint brush with acrylic paint and hold it above the jar.

Using the other hand, hold a clean brush or stick and gently tap the paint filled brush. This will give the paint enough force to travel from your brush to the jar(s).
Fill the brush again to get bigger dots.

To achieve flag-themed colors, follow the splatter paint pattern below:
Red jar – Splatter white and blue paint
Blue jar – Splatter red and white paint
White jar – Splatter red and blue paint
Tip: Dilute your acrylic paint with a little water to make splattering easy. Experiment with the consistency of the paint on a piece of paper first.
Let the jars dry for 4-5 hours. Your Splatter Paint 4th of July Mason Jars 💙🤍❤️ are ready.

Check out other 10 Easy Patriotic Crafts that you can try.