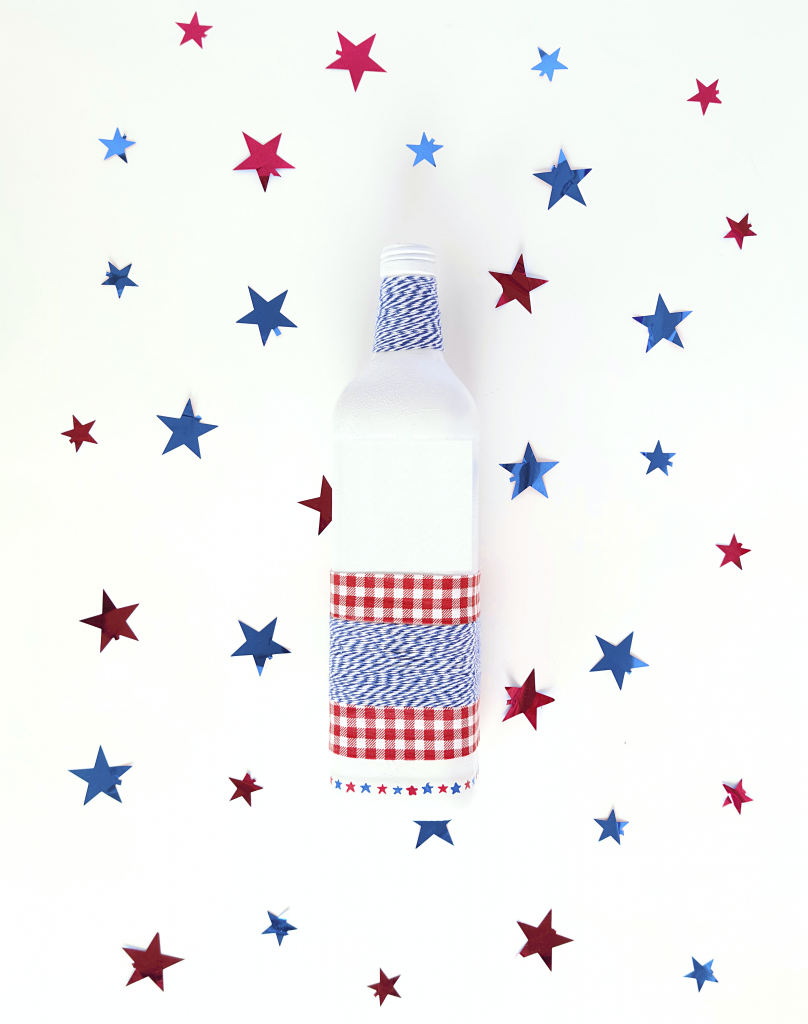 Are you looking for easy and fun patriotic crafts that are quick to make? This flag-themed DIY Wine Bottle Craft is a must try! You can gift to your friends/family or use it as a decor piece.
Planning on throwing a 4th of July party for your friends and family? This would be an excellent 4th of July decoration that you can place on the table. Try this DIY Wine Bottle Craft today!
What you need?
Empty Wine Bottle
White Spray Paint
Glue Gun
Scissor
Red Cloth Decoration (or Blue)
Blue Thread Decoration (or Red)
Acrylic Paint Pens (Sharpie Paint Pens)
How to make this DIY Wine Bottle Patriotic Craft?
Step 1: Prepare your wine bottle
Peel the label off from your wine bottle. If it doesn't come out clean, you can boil water, add a tbsp of baking soda and soak the bottle in it for 15 minutes.
Now, wash your wine bottle well with soap and dry it.

Step 2.1: Paint your wine bottle
Spray paint (red, blue or white) the wine bottle for the base color. I used white. Completely cover the wine bottle in paint. This will be your base coat. You can also use acrylic paint to paint your wine bottle white.

Note: Leave the painted wine bottle to dry overnight if you plan to skip step #2.2
Step 2.2 [OPTIONAL]: Give your wine bottle a cracking effect
While the spray paint is wet, use a bounty / piece of cloth to give a crackling effect by dabbing over the wet paint gently as shown below.

Note: Leave the painted wine bottle to dry overnight
Step 3: Stick the cloth on the wine bottle
Cut two pieces of cloth 4 inches wide and good enough length to completely wrap the bottle once as shown below.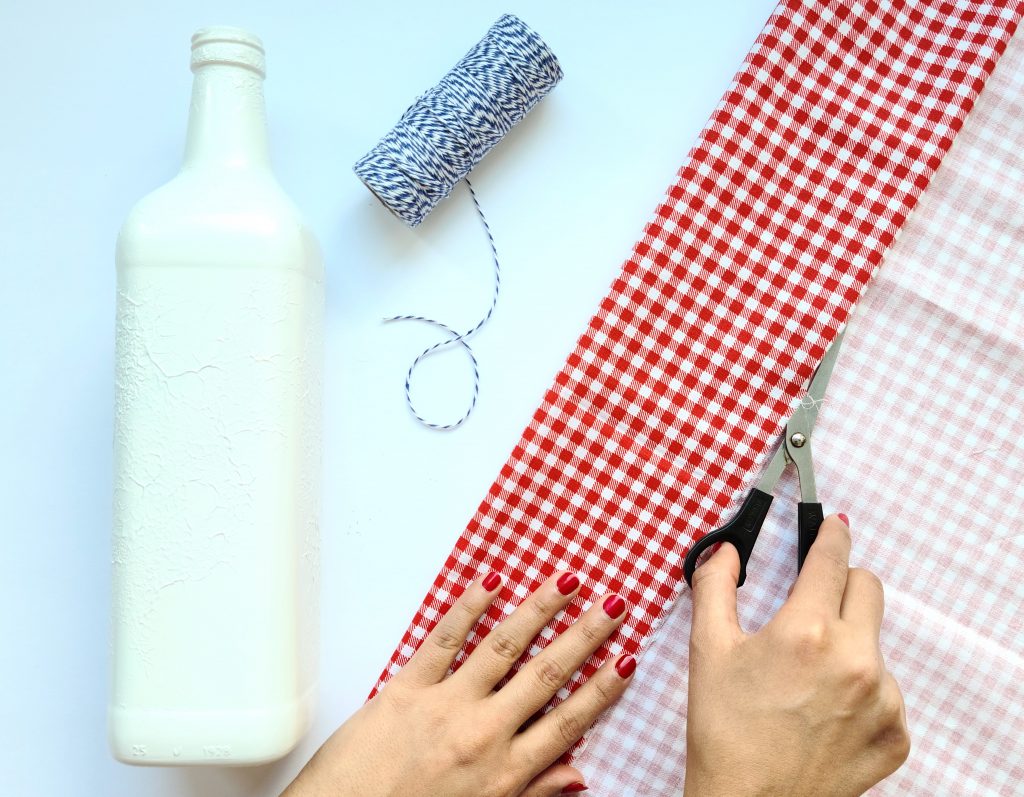 Fold and glue the edges of the cloth to give it a cleaner look before you stick the cloth to the bottle.

Now, stick the two cloth at distance of 6 inches apart on the bottle.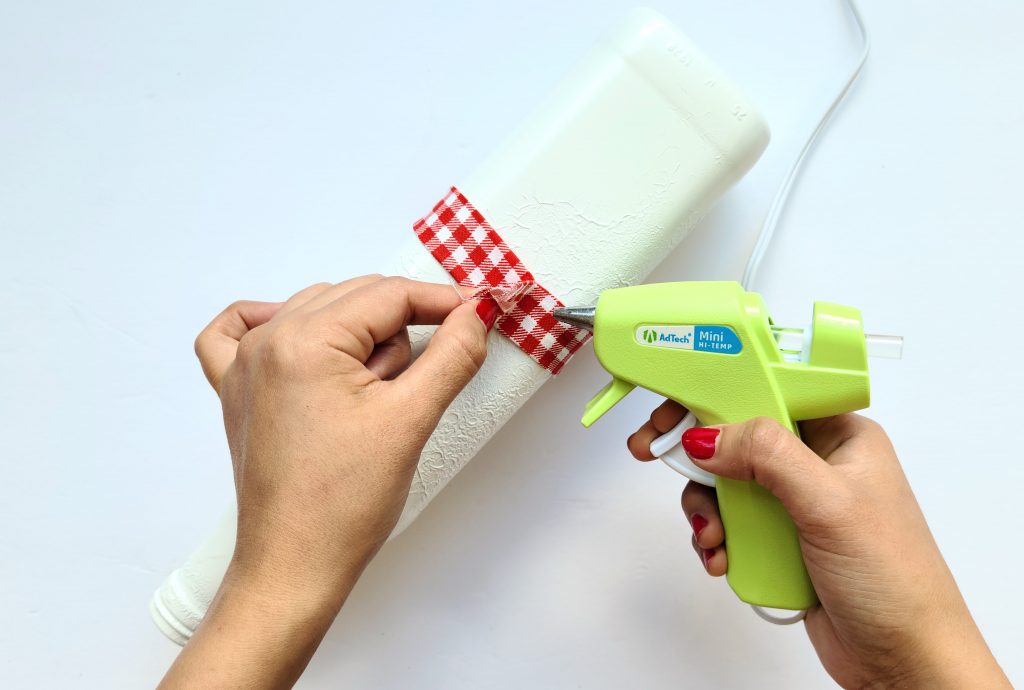 Feel free to experiment with the distance between the two cloth.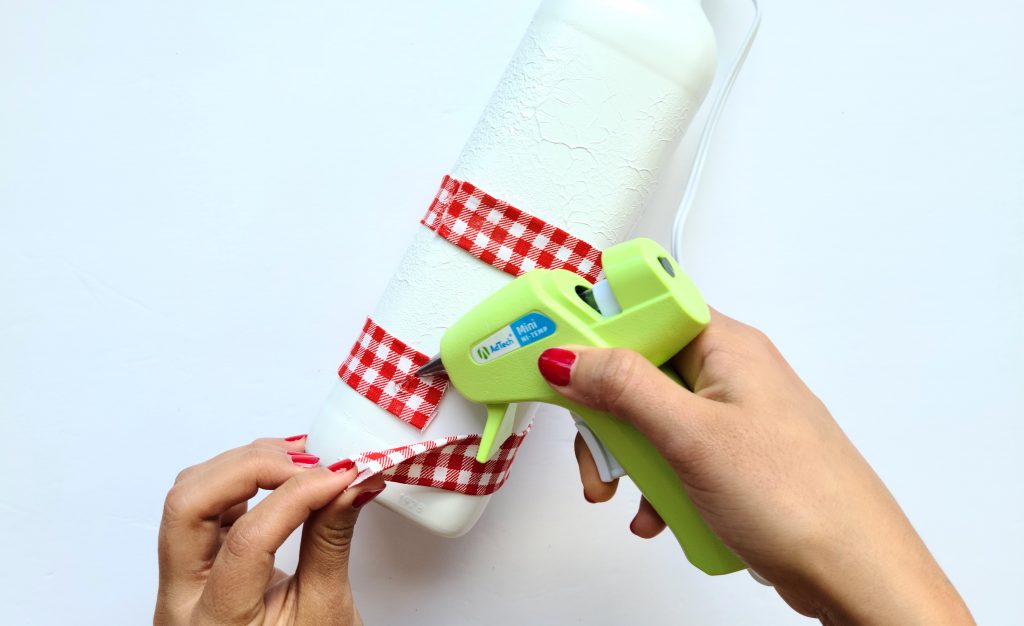 Step 4: Wrap the thread around on the wine bottle
Now, stick one end of the thread on the bottle and then keep wrapping the thread around the bottle until the gap between two cloth is filled.

After you have covered all the gap between two cloth pieces, stick the other end of the thread to the bottle.

Repeat the process for wrapping the thread around the wine bottle neck.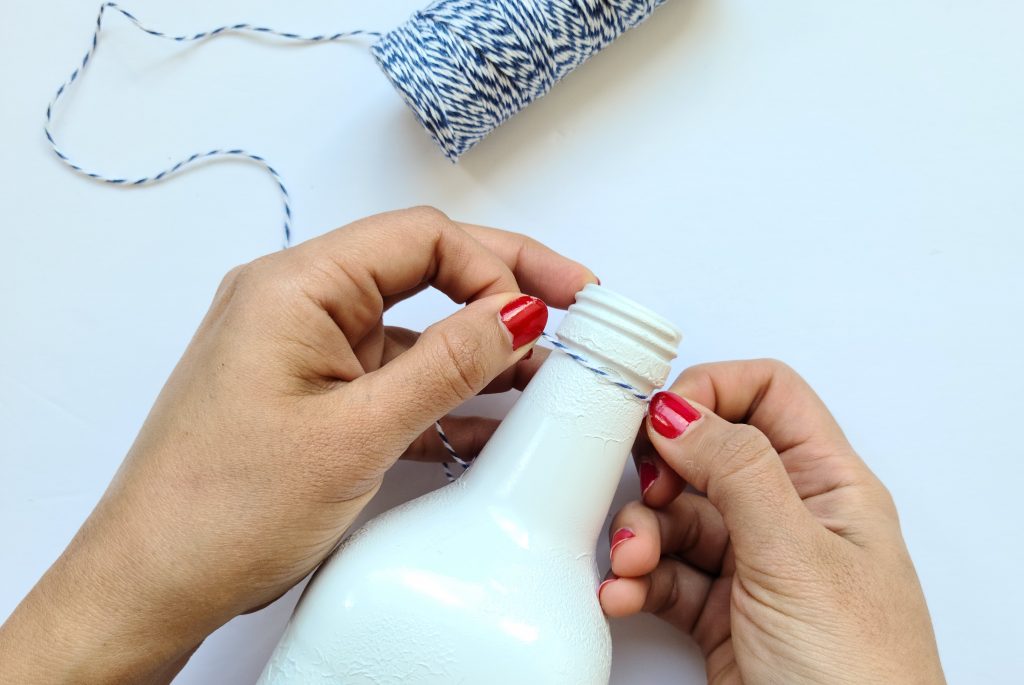 Step 5: Add Stars
An American Flag is incomplete without the Stars. So draw cute little stars at the very bottom, middle or top part of the wine bottle to complete the look.
Your DIY Patriotic 🇺🇸 Bottle Craft is ready for use.


Check out other 10 Easy Patriotic Crafts that you can try.